We love a challenge, particularly one that involves disruptive ideas and a bundle of data. So we were really excited to attend our first ever hackathon last week, at Deloitte Digital, all about capital markets.
The event ran for two days and the challenge was to create a digital idea to disrupt and transform the capital markets industry for clients and staff.
Our team of five did an amazing job in the short time and created a prize-winning entry that was aimed at providing investors with an easy and personalised way to identify investment opportunities.
The Problem
In the current market place, before anyone makes an investment they have to conduct a lot of research. The main issue with this is the vast amounts of information and figures spread across the internet.
Another issue is the way that data is displayed. In the financial world there are many figures and tables and for the first-time investor this world can seem daunting (we certainly thought so!).
With this in mind we decided to focus on simplifying the process of identifying avenues of investment.
Our Solution
The mission of our solution was quite straight forward: provide a simple and personalised platform that allows new, intermediate and experienced investors to quickly and easily identify an investment opportunity.
To accomplish this mission we would have to solve a number of problems; the first is to collate the vast amount of information that is available across the internet. For a proof of concept product (that could be built in under 36 hours) we decided to focus on the hard data supplied by Yahoo finance and indicate the possibilities of other data, like sentiment.
The second, and most important, feature of the application is to ensure that the user has a simple way to select metrics that interest them and display a simple visual highlighting key opportunities to that user. Our final solution was split into three core areas.
Lenses
Lenses are a way of filtering through the mass of information. By building a lens, a user is able to select exactly what metrics they are interested in when considering an investment opportunity. A lens can comprise of a multitude of metrics for example: price, average ROI and sentiment. A lens can be made up of as many, or as few, metrics required.
Visualisation
One of our key objectives was to create a simple way to understand the data and make it easy for users to identify the best investments for them. Not only that, but users should be able to delve a bit deeper into the figures to understand why this is the best choice of them.
Our solution to this was the bubbles visual. Once a user has selected their chosen 'lens' the bubbles will resize to reflect the aggregated score for that investment, the larger the bubble the better the investment is for you. The investment industry is awash with line graphs and statistical representations, so we wanted to create something that has an air of simplicity whilst still being driven by some clever calculations in the background. But we didn't want to sacrifice the important details for the sake of simplicity, so users can also click on an individual investment opportunity to see the breakdown over time that has contributed to the overall score.
Social
The final aspect of the application is to allow users to share their results and follow other users. Given the audience we are aiming this at we felt it was a key piece of functionality, as it allows users that are new to the investment world to follow and learn from more experienced members. By allowing members to copy and follow each other we open up a potentially exciting prospect for experienced investors; as for each lens they have created that is copied or duplicated they will receive a small commission on any investments made using that lens. THE BUILD
The Build
This was an intensive build, having only 36 hours at Deloitte Digital's headquarters in London. So following the briefing we grabbed some time with the experts on site, getting a crash course in Capital Markets and refined the idea to make sure it served the audience as best as possible.
Data was – unsurprisingly – a key part of the build, so the first goal was to find as much data as possible that was openly available on the internet, searching for open API's or websites we could scrape. Meanwhile, our designer began work fleshing out the wireframes and defining the user flow.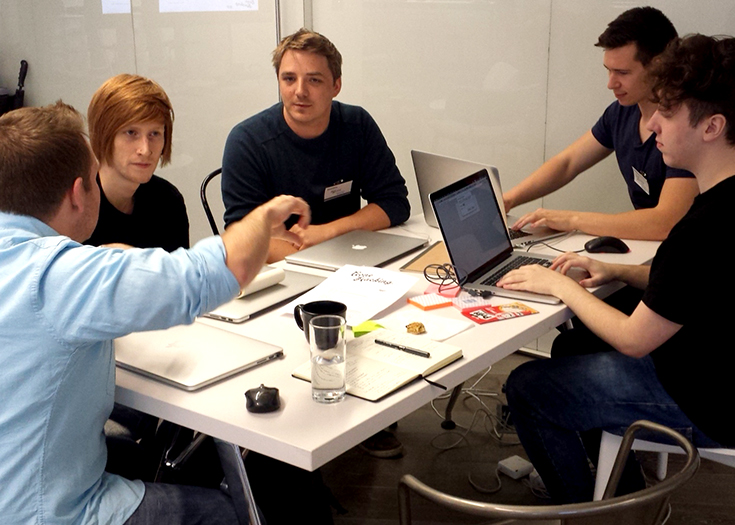 We created two environments, the first is the front-end. At Signal Noise we have built a bespoke MVC / Object-oriented boiler plate for web development comprised of HTML, JavaScript, CSS and using a number of frameworks including: Backbone, Underscore, jQuery. For the more visual builds we also include the CreateJS Suite or PixiJS. For this we also included D3 for some complex calculations and assistance drawing the SVG charts.
The API was comprised of NodeJS using the Hapi framework and MongoDB incase we required a database.
The team was then split into two sub teams, three of the developers focusing on the front-end and one focusing on data and interaction with the API.
With the team putting in a huge amount of effort (fuelled by lots of burritos and sushi) we were able to get to really good place by the end of the first day, with the pages and majority of functionality completed. Leaving most of the Friday for finalising the main animations, cleaning up a few bugs here and there and preparation for the presentation.
The Presentation
Meet Mike, Tracy and Bill.
These were our fictional users that we designed our tool around, each of them had a different knowledge of the investment landscape and the tool aimed to provide them all with tailored investment opportunities. Dom lead the team through a swift five minute presentation including a live demo of the tool and a visual presentation that showcased the outcome of the two days of work…. and we're very proud to say that our efforts were rewarded with fourth place and our very own Phantom video drone and award.
Thanks to the guys at Deloitte Digital for such a great two days!
4
Developers
1
Designer
21
Hours of coding
30
Slices of pizza
2477
Lines of JavaScript
777
Lines of CSS
178
Lines of HTML
5
Minutes to present
1
Shiney award
And a very happy Signal Noise team!