Tracking a network of users
A powerful online tool for understanding real consumer behaviour at scale.
The project
We worked with EE's mData team on the design and development of a powerful online application aimed at anyone looking to better understand consumer online behaviour on mobile. The tool allows users to select at specific date or location and then view a breakdown of demographics and website / app usage

The process
The tool contains three main visualisations to cater for the different types of data that need to be shown. We wanted to give users the agency to interrogate the data: refining searches and defining parameters themselves to get the slices of data that were relevant to them. We used the right hand panel for these controls to allow as much space as possible for the visualisations.
To ensure that the right balance of detailed insight and individual privacy is maintained, all web usage data displayed on the tool is aggregated to a minimum of 50 individuals.

Hotspot Visualisation
The hotspot visualisation allows users to specify a UK postcode (limited to 5 characters for privacy reasons) and a radius around it. The application will then return data about the people that were there – their age, gender, mobile operating system or device type and shows you which websites and apps they were using. It provides a simple and intuitive way to better understand audiences at key locations and to assess the impact of OOH marketing. As well as specifying postcodes, users can pick from a selection of predefined points of interest like shopping centres or train stations.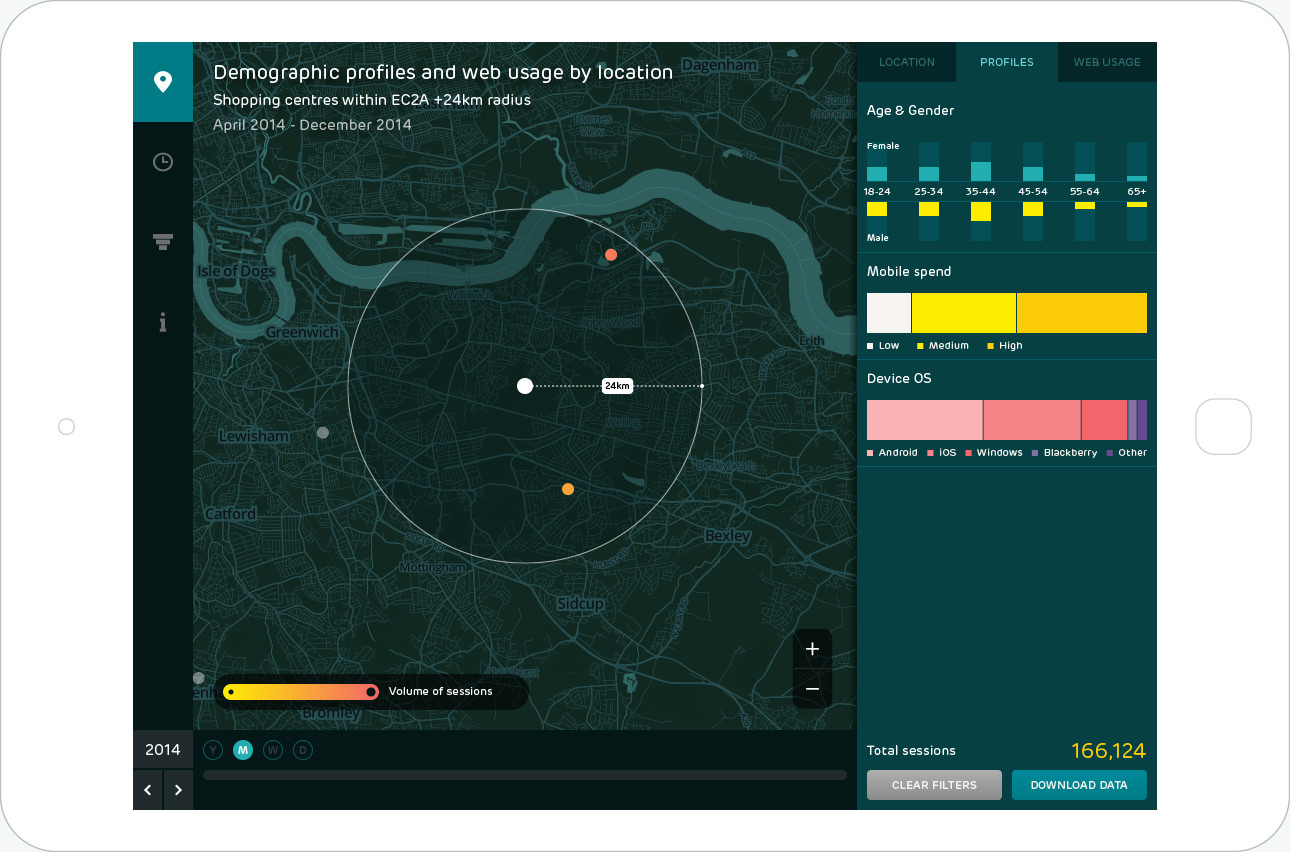 Users can specify a time location to view demographic and web usage data. For example, if you want to understand who is at Heathrow T5 on an average Saturday in the summer and what they're doing on their phone, the data is only a couple of clicks away.

Timeline Visualisation
The timeline visualisation displays a stacked area chart of web sessions for specific categories or websites over the time period that the user selects, providing a quick and intuitive way to see usage patterns emerge. Users can view categories of apps/websites or drill down into them to view how individual services perform. Audience demographics can be edited to update the chart in real time.
The timeline can be configured to compare two different audience groups, allowing the user to edit demographic settings or compare different websites for different groups.
Funnel Visualisation
The funnel visualisation allows users to choose a website to view the preceding and succeeding sites that an audience visited, such as women over 35 who visited theguardian.com.
The top ten preceding and succeeding websites are displayed as circles radiating from the original site the user selected. The diameter of the circle represents the volume of sessions tracked and the length of the tail that projects from it, the average duration of visits. Users can click on a preceding or succeeding website to make it the focus of the visualisation.