Millions in and out: money in the football transfer window
An interactive visualisation using live data from European football transfers and the impact this has on each clubs' league position.
The project
We were fascinated by the vast amounts of money changing hands during the transfer windows so we decided to make an interactive visualisation that shows you where all the money goes. The football transfer window happens twice a year, during this time the site pulls in live data on all of the transfers made between the 10 main European leagues and the clubs within them. Each transfer is mapped onto the visualisation, showing the aggregated flow of players, the money that changed hands and the value that each club is getting for its money.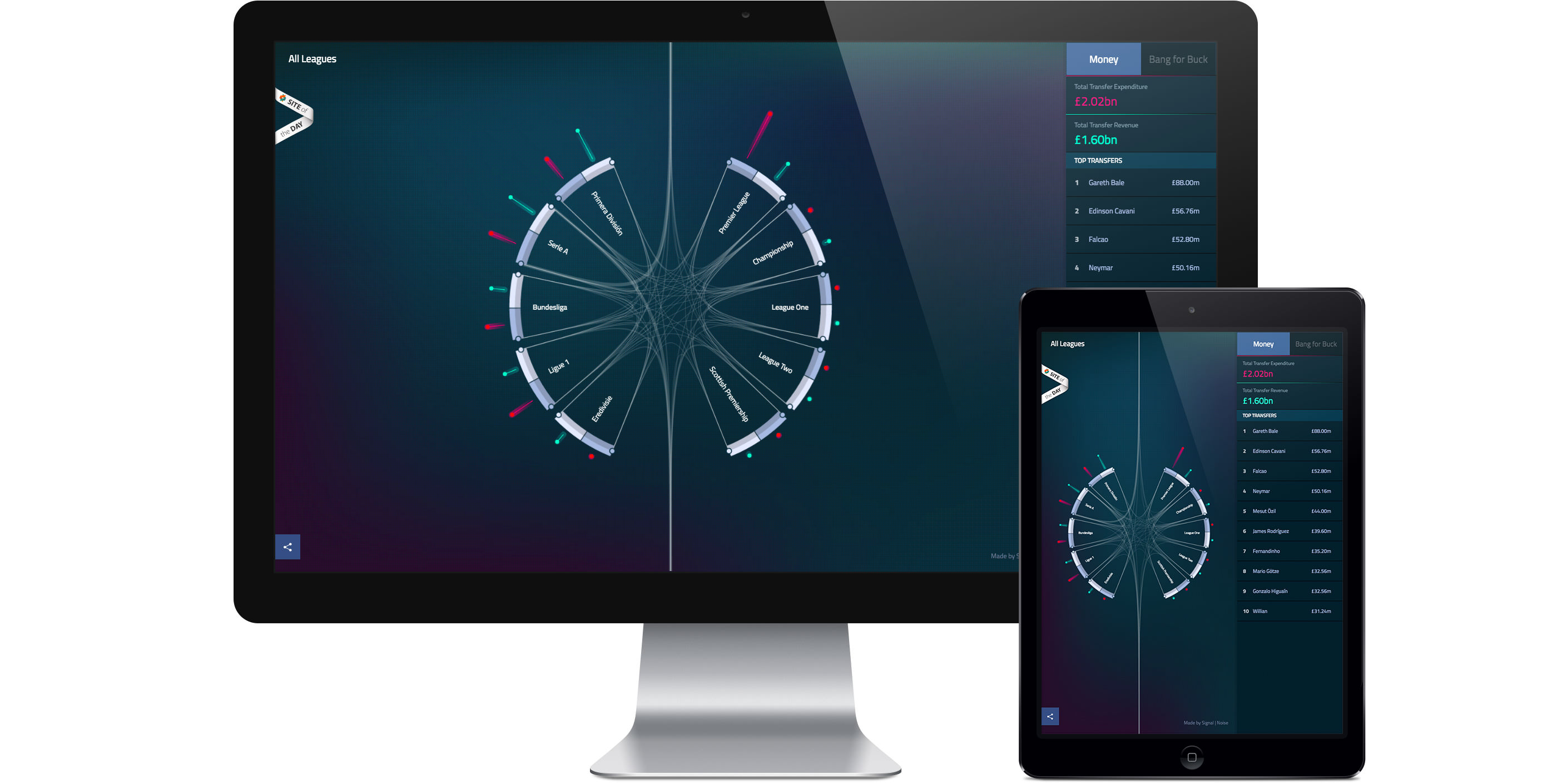 The process
The interest in sports data and analysis has increased at an incredible rate, especially data about football. We wanted to appeal to football and data fans alike, and create something that could serve as an analytic tool, a form of entertainment and a platform for debate.
A new beginning
In August 2013, we re-launched our Transfer Window visualisation with updated features for the 2013/2014 season. We wanted to come up with something new and exciting, which was a visible improvement on the previous version.
Bang for buck
We delved deeper into the data and developed a 'Bang for Buck' feature which tracks the performance of each team throughout the season, factoring in the amount that they spend on new players in the transfer window, and calculates a value-for-money score based on their expenditure during the transfer window.
Engaging visitors
We also gave the user the opportunity to have their say by adding a social timeline feature.
The results
The website received praise from visual.ly.com, where it was awarded 'Staff Pick', and the Evening Standard commissioned a related Transfer Window infographic for their Sports website. It was awarded 'Site of the Day' by awwwards.com and won Gold in the Sports category for the 2013 Lovie Awards, and getting 65,000 views in the first two months of launching.